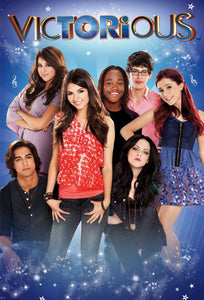 Victorious The Complete TV Series On DVD Nickelodeon



Plot:
Victorious is an American sitcom created by Dan Schneider that originally aired on Nickelodeon from March 27, 2010 until February 2, 2013. The series revolves around aspiring singer Tori Vega, a teenager who attends a performing arts high school called Hollywood Arts High School, after taking her older sister Trina's place in a showcase while getting into screwball situations on a daily basis. On her first day at Hollywood Arts, she meets Andre Harris, Robbie Shapiro, Rex Powers, Jade West, Cat Valentine, and Beck Oliver. The series premiered on March 27, 2010 after the 2010 Kids' Choice Awards. The first soundtrack for the series, Victorious, was released on August 2, 2011. The series won for Favorite TV Show award at the 2012 Kids' Choice Awards and 2013 Kids' Choice Awards, even beating out iCarly. Victorious has had four Emmy nominations. Its second soundtrack, Victorious 2.0, was released on June 5, 2012.


Original Name: Victorious
Number of Seasons: 4
Number of Episodes: 60
Status: Canceled
Type: Scripted
Network(s): Nickelodeon
First Air Date: March 27, 2010
Last Air Date: February 2, 2013
Episode Runtime: 23,24 mins
Primary Year: 2010
Created by: Dan Schneider
Genres: Drama, Comedy
Spoken Language(s): English
Origin Countries: United States of America

Seasons:
Season 1 — 20 Episodes — Air Date: March 27, 2010
Season 2 — 13 Episodes — Air Date: April 2, 2011
Season 3 — 14 Episodes — Air Date: January 28, 2012
Season 4 — 13 Episodes — Air Date: September 22, 2012

Casting:
Victoria Justice – Tori Vega
Leon G. Thomas III – Andre Harris
Matt Bennett – Robbie Shapiro
Ariana Grande – Cat Valentine
Avan Jogia – Beck Oliver
Daniella Monet – Trina Vega
Michael Eric Reid – Sinjin Van Cleef
Eric Lange – Mr. Sikowitz
Jake Farrow – Rex
Elizabeth Gillies – Jade West

Episode # Original
Air Date Titles

Season 1

Pilot
The Bird Scene
Stage Fighting
The Birthweek Song
Jade Dumps Beck
Tori the Zombie
Robarazzi
Survival of the Hottest
Wi-Fi in the Sky
Beck's Big Break
The Great Ping Pong Scam
Cat's New Boyfriend
Freak the Freak Out
Rex Dies
The Diddly-Bops
Wok Star
The Wood
A Film by Dale Squires
Sleepover at Sikowitz's

Season 2

Beggin' on Your Knees
Beck Falls for Tori
Ice Cream for Ke$ha
Tori Gets Stuck
Prom Wrecker
Locked Up (60 min)
Helen Back Again
Who Did It to Trina?
Tori Tortures Teacher
Jade Gets Crushed
Terror on Cupcake Street
A Christmas Tori

Season 3

The Breakfast Bunch
The Gorilla Club
The Worst Couple
André's Horrible Girl
Car, Rain, and Fire
Tori & Jade's Playdate
April Fools Blank
Driving Tori Crazy
How Trina Got In
Tori Goes Platinum
Crazy Ponnie
The Blonde Squad

Season 4

Wanko's Warehouse
The Hambone King
Opposite Date
Three Girls and a Moose
Cell Block
Tori Fixes Beck & Jade
One Thousand Berry Balls
Robbie Sells Rex
The Bad Roommate
Brain Squeezers
The Slap Fight
Star-Spangled Tori
Victori-Yes
Blooptorious

Tags: 2010, Ariana Grande, aspiring singer, Avan Jogia, Canceled, Comedy, Drama, English, Hollywood, Leon G. Thomas III, Matt Bennett, Matt Fleckenstein, Scripted, teenager, TV Series, Victoria Justice

SEASON ONE
Editorial Reviews
Product Description
Hit the stage with Tori Vega and all the amazing students at Hollywood Arts, the most prestigious performing arts high school in the country! From wowing the crowd at the big showcase to movie roles, stage fights, costume make-up and more, these talented students are ready to shine!
---
Product details
Is Discontinued By Manufacturer :

 

No

MPAA rating :

 

Not Rated NR (Not Rated)

Product Dimensions :

 

7.5 x 5.25 x 0.5 inches; 4 Ounces

Media Format :

 

Multiple Formats, Color, Full Screen, NTSC

Run time :

 

4 hours and 3 minutes

Release date :

 

July 5, 2011

Actors :

 

Victoria Justice, Leon Thomas III, Matt Bennett, Elizabeth Gillies, Ariana Grande

Studio :

 

Nickelodeon

Number of discs :

 4
SEASON TWO
Editorial Reviews
Season 2 of Victorious shines even brighter as the students re-audition for their spots at Hollywood Arts, get ready for their first-ever prom, and drive a giant cupcake through the streets! Put your hands together for more music, more drama, and hilarious behind-the-scenes bloopers!
---
Product details
Is Discontinued By Manufacturer :

 

No

MPAA rating :

 

s_medNotRated NR (Not Rated)

Product Dimensions :

 

7.5 x 5.25 x 0.5 inches; 3.2 Ounces

Director :

 

Steve Hoefer, Russ Reinsel

Media Format :

 

Multiple Formats, Color, Full Screen, NTSC

Run time :

 

5 hours and 12 minutes

Release date :

 

May 15, 2012

Actors :

 

Victoria Justice, Leon Thomas III, Matt Bennett, Elizabeth Gillies, Ariana Grande

Studio :

 

Nickelodeon
SEASON THREE
SEASON FOUR