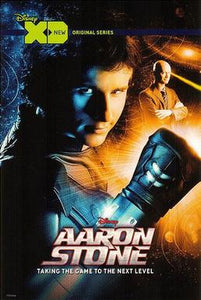 35 EPISODES ON 10 DVD'S
THERE IS A .MP4 DOWNLOAD OPTION FOR THIS TITLE FOR 50% LESS COST
USE THE SEARCH BOX AND ENTER DOWNLOAD
The top teen player of a superhero video game is recruited to adopt the crime-fighter's persona in real life.
Aaron Stone is a Canadian-American, science fiction, action-adventure television series created by Bruce Kalish. Originally broadcast with the launch of Disney XD on February 13, 2009. It was the first original series to air on the network. It was produced in conjunction with Canadian Shaftesbury Films and filmed in Toronto, Ontario, Canada.

The series was about a teenager named Charlie Landers (Kelly Blatz) who is enlisted to become the real-life counterpart of his world-renowned avatar Aaron Stone from the fictional video game Hero Rising. The series also starred David Lambert, Tania Gunadi and J. P. Manoux. Unlike most of Disney's live-action shows, Aaron Stone featured a darker tone with a complex storyline.

Production for the first season ran from June 2, to December 19, 2008. The first season aired on Disney XD from February 13, to November 27, 2009. On May 5, 2009, Disney announced that the show had been renewed for a second season.
Kelly Blatz confirmed via Twitter account that production for the second season began on June 22, 2009.

On November 11, 2009 in a live Ustream chat with J. P. Manoux, Tania Gunadi and Bruce Kalish, it was announced that Aaron Stone would not be renewed for a third season, with the second season being its last. The given reason was that Disney XD made the decision to put more emphasis on live-action programming that is primarily comedy-based. This announcement was made before season one concluded in the United States. A total of 14 episodes were produced for the second season premiering on February 24, 2010. The last remaining 8 episodes began airing on June 16 and concluded on July 30, 2010. As of 2015, Disney XD discontinued airing reruns of Aaron Stone in the United States.

In 2015, on the Disney Channel Original Movie, Descendants, Carlos, played by Cameron Boyce, was seen playing "Hero Rising" as the Aaron Stone character. 
Season 1
1.     1-1                 13 Feb 09   Hero Rising: Part 1
2.     1-2                 13 Feb 09   Hero Rising: Part 2
3.     1-3                 23 Feb 09   First Strike
4.     1-4                 02 Mar 09   Time Out
5.     1-5                 09 Mar 09   Rockin' the Free World
6.     1-6                 16 Mar 09   From Hero to Xero
7.     1-7                 23 Mar 09   Not So Friendly Skies: Part 1
8.     1-8                 30 Mar 09   Not So Friendly Skies: Part 2
9.     1-9                 06 Apr 09   In Hall We Trust
10.    1-10                13 Apr 09   My Two Stans
11.    1-11                22 Jun 09   Xero Control
12.    1-12                29 Jun 09   Cloudy With a Chance of Ninjas
13.    1-13                06 Jul 09   Hunt Me? Hunt You!
14.    1-14                13 Jul 09   Beastland
15.    1-15                20 Jul 09   Chuck & Charlie
16.    1-16                27 Jul 09   Mind Games
17.    1-17                03 Aug 09   My Stakeout with S.T.A.N.
18.    1-18                07 Oct 09   Dreamcast
19.    1-19                04 Nov 09   S.T.A.N. By Me
20.    1-20                18 Nov 09   Saturday Fight Fever
21.    1-21                27 Nov 09   Game On

Season 2

22.    2-1                 24 Feb 10   Damage Control
23.    2-2                 24 Feb 10   In the Game of the Father
24.    2-3                 03 Mar 10   Gauntlet, But Not Forgotten
25.    2-4                 10 Mar 10   Photography
26.    2-5                 17 Mar 10   Face-Off
27.    2-6                 24 Mar 10   My Own Private Superhero
28.    2-7                 16 Jun 10   Resident Weevil
29.    2-8                 23 Jun 10   Run
30.    2-9                 30 Jun 10   Pack Man
31.    2-10                07 Jul 10   Tracker Field
32.    2-11                14 Jul 10   Metal Gear Liquid
33.    2-12                21 Jul 10   Sparks
34.    2-13                30 Jul 10   Mutant Rain: Part 1
35.    2-14                30 Jul 10   Mutant Rain: Part 2